A.R. PENCK: FELT WORKS 1972-1995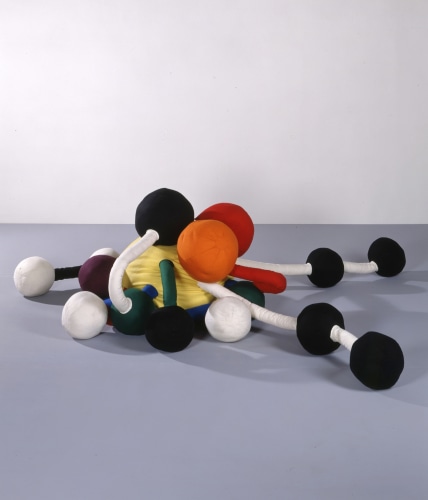 Michael Werner Gallery is pleased to present A.R. Penck: Felt Works 1972-1995. This exhibition of the artist's felt sculptures is the first to be presented outside of Europe, offering a rare opportunity to examine a significant, though little-known, body of work by one of the most important artists of the post-war generation.
A.R. Penck's unrestrained craft masks an intellectual curiosity not often seen in the art of our time. Beginning in the early 1960s the artist developed a simplified pictorial vocabulary deriving from language, mathematics, cybernetics, information systems and behavioral theories. Comprising abstract forms and quasi-representational pictographs, Penck's personalized lexicon came to serve his investigation of post-World War II ideologies and systems in politically repressed East Germany. The importance of his achievement, however, is not restricted to the context of Cold War cultures. The depth and sophistication of Penck's oeuvre continues to reveal itself today. Informed in equal measure by hard science and science fiction, Penck's language of signs and symbols speaks to our current economic, social and political situations, giving concrete form to the unseen, often abstract systems which have become governing forces in our daily lives.
This complex dialectic is nowhere more evident than in Penck's felt works, which are presented in this exhibition for the first time in America. The felt sculptures occupy a curious place in the artist's already expansive oeuvre. Here, the seemingly primitive signs and symbols characteristic of Penck's paintings are transformed into something gentler yet every bit as urgent and alive. Penck's first felt sculptures, created in 1972 and 1974, expanded on Standart, an artistic worldview he first developed in the 1960s and to which he would return throughout his career. These early objects defined the basic formal parameters for Penck's later felt sculptures: unmodulated primary colors, clarity of form and a material softness that worked in opposition to the hardness of paint, wood and metal. Absent is the brusque and visceral hand which typifies Penck's practice; "primitive" becomes "playful". It was not until the mid-nineteen eighties that Penck would explore the expressive possibilities of the felt sculptures in depth. He wrote at the time that these works should please children, operating as machines of science fiction, and it is a curious coincidence that the emergence of the felt sculptures as a discrete body of work overlaps the advent of the personal computer. Change, mutation, continuation and transmission underlie these works, which speak critically to society's shift from analogue to digital culture, exploring the conflict between work and play and its consequences for individual experience.
A.R. Penck was born Ralf Winkler in Dresden in 1939. Evidently a prodigious child artist and compulsive draughtsman, at the age of 16 he made his first of several applications to the art academies in Dresden and East Berlin. His paintings' nascent political overtones and the determinedly un-academic directness of his style brought constant rejection by the establishment. The pseudonym A.R. Penck was adopted in 1969 to counter persistent difficulties with East German authorities, who had essentially barred the artist from exhibiting his works publicly. By smuggling his paintings westward Penck was able to exhibit in Cologne, his first exposure in the West. The artist's first solo museum exhibition took place in 1971 at Museum Haus Lange, Krefeld; the following year he participated in Documenta 5. In 1975 he was awarded the prestigious Will Grohmann Prize of the Academy of Arts in West Berlin. Penck achieved international acclaim following his emigration to the West in 1980 and subsequent participation in the important exhibitions Zeitgeist (Martin Gropius Bau, Berlin, 1982) and New Art (Tate, London, 1983). He has worked tirelessly as a painter, sculptor, writer and musician, and today is represented in public and private collections throughout the United States and Europe. He has presented numerous exhibitions internationally, including solo exhibitions at Kunsthalle Bern; Van Abbemuseum, Eindhoven; Museum Ludwig, Cologne; Gemeentemuseum, The Hague; The Irish Museum of Modern Art, Dublin; Museo Rufino Tamayo, Mexico City; Schirn Kunsthalle, Frankfurt; and Musée d'Art Moderne de la Ville de Paris. Last year Museum Ludwig presented the first survey exhibition of Penck's felt sculptures and related drawings. A.R. Penck lives and works in Dublin.
A.R. Penck: Felt Works 1972-1995 is on view at Michael Werner Gallery in New York from 9 January through 8 March 2014. Gallery hours are Monday through Saturday, 10AM to 6PM. For more information please ­email press@michaelwerner.com.