MMNKTLPLKT. NEW WORKS BY AARON CURRY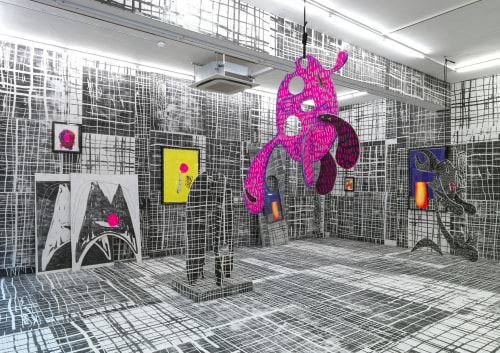 Michael Werner Gallery is pleased to announce MMNKTLPLKT, an exhibition of new works by Aaron Curry, on view at 20 Hoxton Square in London from 20 September through 20 October.
With MMNKTLPLKT, Aaron Curry disregards the confines of the traditional white cube to create an environment of complete optical immersion and confusion. Dazzling patterns cover the walls and floor of the gallery, alternately mirroring and obscuring the painted sculptures that stand, lean and hang throughout the space. The exhibition continues across the street from the gallery with two monumental sculptures installed in Hoxton Square Park. This ambitious installation brings to a new level of complexity the artist's exploration of the relationships between drawing and form, abstraction and figuration, and spaces both real and virtual. The result is a contemporary Merzbau, resounding with echoes of surrealist abstraction, Picasso and the digitized dimensions of cyberspace.
This is Aaron Curry's third exhibition with Michael Werner Gallery. Recently the artist was the subject of a traveling solo exhibition, Bad Dimension, organized by the Galleria d'Arte Moderna e Contemporanea, Bergamo, and Kestner Gesellschaft, Hannover. In 2008, the UCLA Hammer Museum, Los Angeles presented his first solo museum exhibition. Aaron Curry is currently included in the exhibitions Statuesque, City Hall Park, New York; Alexander Calder and Contemporary Art: Form, Balance, Joy, Museum of Contemporary Art, Chicago; and At Home/Not at Home: Works from the Collection of Martin and Rebecca Eisenberg, Center for Curatorial Studies at Bard College, Annandale-on-Hudson. Other recent exhibitions include Two Face, The Ballroom, Marfa (2009); Beg, Borrow and Steal, Rubell Family Collection, Miami (2009); KölnSkulptur 5, Cologne (2009); and Unmonumental: The Object in the 21st Century, The New Museum of Contemporary Art, New York (2007).
MMNKTLPLKT is on view at 20 Hoxton Square, London N1, from 20 September through 20 October. Gallery hours are Monday through Friday, 11am to 6pm, and Saturday from noon to 6pm. Please contact press@michaelwerner.com for more information.