DON VAN VLIET: WORKS ON PAPER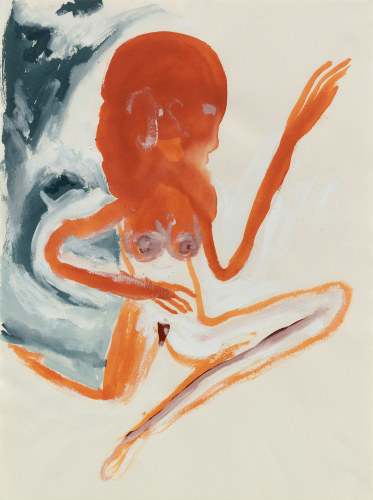 Michael Werner Gallery, New York is pleased to present an exhibition of works on paper by Don Van Vliet. The exhibition comprises drawings and paintings on paper from the 1980s through 2000 and is the first solo showing of Van Vliet's work in New York in 10 years.
Born in Glendale, California in 1941, Van Vliet drew and painted constantly as a child and by the age of ten had gained regional celebrity as a prodigious sculptor of life-like animals from clay. Van Vliet continued to draw and paint during his many years performing under the stage name Captain Beefheart. Captain Beefheart, together with his Magic Band, recorded thirteen studio albums of boldly unconventional music and ultimately secured Van Vliet's place in rock-and-roll history as one of the most original recording artists of all time. Van Vliet turned away from performance in the early 1980s, devoting his intense creative energy solely to painting.
Like the music he created in the decades prior, the visual works that poured forth from the 1980s until his death in 2010 are bold and edgy and do not fit comfortably into one stylistic category. The artist's decisive gesture, spare palette and stark, animalistic urgency point to the lore and landscape of the California desert as a primal source of his inspiration. The immediacy of this vision is most keenly felt in the artist's works on paper. The earliest works on view, executed in watercolor and gouache, are depictions of abstracted nature. Over time Van Vliet gradually shed the painterly, in his later years favoring colored pencil. The late works clearly evoke a sense of primitive sound or language, eschewing the pictorial for pure and unfettered expression.
Don Van Vliet exhibited his work in galleries and museums throughout the United States and Europe, including the San Francisco Museum of Modern Art, Bielefelder Kunstverein, Brighton Museum and Art Gallery, Cleveland Center for Contemporary Art and P.S.1 Contemporary Art Center, New York. He is currently included in the exhibition Animal Farm at the Brant Foundation, Greenwich, Connecticut.
Don Van Vliet: Works on Paper opens 13 July at Michael Werner Gallery in New York and remains on view through 9 September. Summer gallery hours are Monday through Friday, 10AM to 6PM. For more information, please contact the gallery at press@michaelwerner.com.