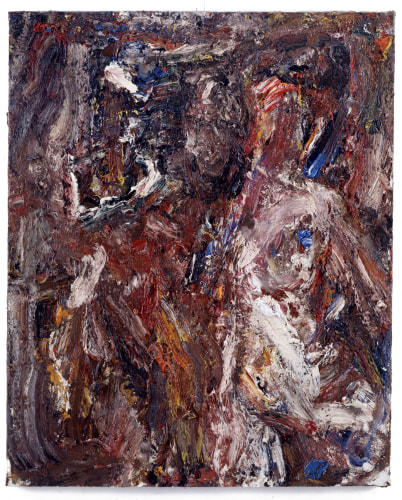 Michael Werner Gallery is pleased to announce an exhibition of paintings of nudes by Eugène Leroy (1910-2000).
Through more than seven decades of devotion to painting Eugène Leroy remained passionately committed to a personal interpretation of the classic genres of high art: still-lifes, landscapes and nudes. The female figure in particular was a constant source of inspiration and challenge for the artist. As he stated in a 1992 interview, "Creating a figure...and imparting life to it - this level of art belongs most properly to painting." Emerging radiant from thick layers of paint or lurking, barely discernible amidst peaks and crevices of color, Leroy's nudes appear to be sculpted from the paint itself. Indeed, the stuff of the artist's pigment is often the most immediate and recognizable characteristic of a Leroy painting. Paradoxically, Leroy's lifelong obsession was not with matter but with light. The density of Leroy's painting lends an oddly porous quality to his subjects, enhancing the shimmering luminosity which suffuses his canvases. Never concerned with mere description, Leroy's ultimate achievement in painting was to reconcile the physical matter of pigment with the potential of ephemeral light.
Eugène Leroy was born in 1910 in Tourcoing in northern France, near the Belgian border. At a young age he traveled to Rome and by the age of 21 had studied of the École des Beaux-Arts in Lille and in Paris; yet he would return to the region of his childhood, making his home and studio there for most of his life. Leroy exhibited in the Salon d'Automne in 1946 and 1947 and from that time exhibited his work regularly in Paris. His first exhibition with Michael Werner was in Cologne in 1983. Works by Leroy are to be found in major American and European collections and have been featured in exhibitions at the Albright-Knox Art Gallery, Buffalo, New York; The Power Plant, Toronto; Stedlijk Van Abbemuseum, Eindhoven; Museum van Hedendaagse Kunst, Gent; Musée d'Art moderne de la Ville de Paris; Musée d'Art moderne et d'Art contemporain, Nice; Sao Paulo Bienal, Brazil; and Documenta IX, Kassel. In 2009, following a major donation of the archive and works of Leroy from the artist's estate, the fine arts museum of Tourcoing was renamed Musée des Beaux Arts Eugène Leroy de Tourcoing. Comprising several dozen paintings and over two hundred drawings and prints, as well as works from the collection of the artist, this collection fully documents the artist's activities from 1930 to 2000.
Eugène Leroy: Nudes is on view from 31 October 2012 through 5 January 2013. Gallery hours are Monday through Saturday from 10AM to 6PM. For more information please email press@michaelwerner.com.