PAINTINGS OF FÉLIX VALLOTTON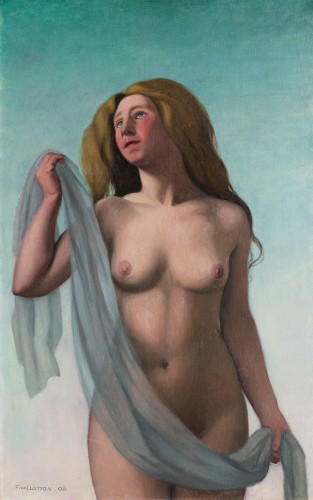 Michael Werner Gallery is pleased to present an exhibition of paintings by Swiss artist Félix Vallotton (1865-1925). The exhibition features portraits of women, primarily nudes, and is the first gallery exhibition in New York devoted to the artist's paintings.
Félix Vallotton's paintings do not give pleasure easily. In portraiture he is not a flashy virtuoso and his nudes are not "sexy", at least not in any typical fashion. His paint handling is careful and deliberate; his palette, subdued and a little flat; his surfaces, slow and at times somewhat dry. His intense, unforgiving attention to detail lends a palpable realism to the paintings. Enlivened by a thinly veiled eroticism, his subtly voyeuristic scenes leave one feeling more than a little uncomfortable. This distinguishing quality in Vallotton is perhaps attributable to the artist's method of combining sketches and photographs to compose a picture (encouraged by Vuillard and Bonnard, who also used photographs in the preparation of their paintings, Vallotton made frequent use of a Kodak). This process is more often associated with another of his contemporaries, Francis Picabia, yet Vallotton does not share Picabia's willful exuberance and lightness of touch, nor are his paintings concerned with any exploration of the relationship between painting and photography. Masterfully, Vallotton deployed an academic approach to create a unique psychological edge in his art. His surprisingly "pre-modern" qualities set Vallotton apart from his contemporaries and make his works appear fresh and worthy of consideration today.
Félix Vallotton was born in Lausanne in 1865. Immediately on leaving college, in 1882, he moved to Paris to begin his formal fine arts training at the Académie Julien. Vallotton excelled at a young age and was soon producing commissioned portraits, critical writings, and numerous prints. By 1891 he had developed the highly innovative woodcut style that would later bring him commercial and critical success, both in Paris and abroad. His graphic works of this time also caught the attention of Nabis, a group of avant-garde artists including Bonnard, Denis and Vuillard, among others, who shared Vallotton's interest in Japanese printmaking and Symbolism, and whose works embraced a radically reductive approach to form and color. Vallotton was briefly aligned with this group but ultimately his love of Ingres and a refined, classical approach to realism distinguished him from his more experimental compatriots. Vallotton would later explain in his autobiography, The Murderous Life, "Nothing made me feel more clearly the warmth of a female body and the weight of a breast than Ingres's manner of contouring a form with the brush."
Works of Félix Vallotton can be seen in private and public collections in Europe and the United States, including Kunstmuseum Basel; Kunstmuseum Bern; Musée du Petit Palais, Geneva; Musée d'Art moderne et contemporain de Strasbourg; Musée d'Orsay, Paris; The Baltimore Museum of Art; The National Gallery of Art, Washington; and The Barrett Collection, Dallas, TX. A major touring retrospective of the artist originated at the Yale University Art Gallery in 1991. More recently, Vallotton was the subject of an important survey, Idyll on the Edge, presented at Kunsthaus Zurich and the Hubertus-Wald-Forum at the Hamburger Kunsthalle, Hamburg.
Paintings of Félix Vallotton is on view from 4 February to 10 April 2010. The exhibition is accompanied by a fully illustrated catalog featuring a text by Peter Doig. Michael Werner is open Monday through Saturday from 10AM to 6PM. Please contact press@michaelwerner.com for more information.