FLORIAN KREWER: CAR PARK GODIVA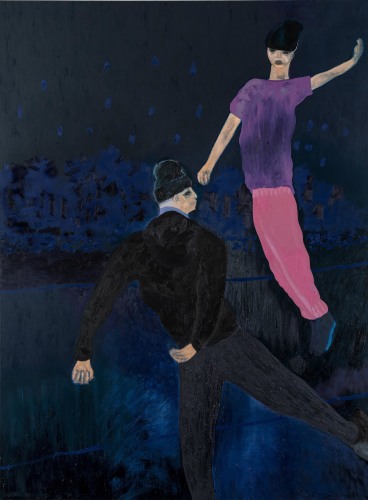 Michael Werner Gallery, London, is pleased to present Car Park Godiva, an exhibition of paintings by Düsseldorf-based artist Florian Krewer (b. 1986). Krewer studied at the Kunstakademie Düsseldorf and this is the artist's first solo exhibition in London.
Krewer's paintings begin in either found or personal photographs he has taken. These photographs may be cut, collaged and eventually redrawn to become the studies from which Krewer's paintings in oil emerge. Photographic specifics of time and place are mostly absent, save for a few occasional details – a horizon line, or an arrangement of coloured planes suggesting perspective – to frame the action. Krewer's palette likewise departs from description with a surprising range of night-dark blacks, unclean whites and artificially-sweetened pinks, purples and blues. Compositions are conveyed entirely through the gestures and placement of the figures in a changing and dynamic surface of paint.
There is a tension and vulnerability that suffuses Krewer's figures, whether alone or interacting within the painting's space. Grounded in the autobiographical yet free from an overt narrative, Krewer's paintings elude one-dimensional reading.
Car Park Godiva opens 30 March with a reception from 6-8PM and will remain on view through 25 May. The exhibition will be accompanied by a catalogue. Gallery hours are Tuesday through Saturday, 10AM to 6PM. For more information, please contact the gallery at press@michaelwerner.com.