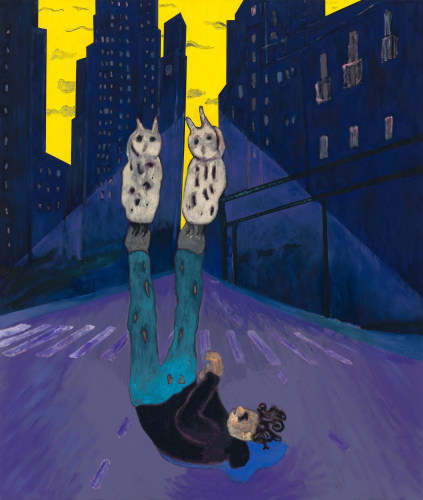 Michael Werner Gallery and TRAMPS present Eyes on Fire, an exhibition of recent paintings by Florian Krewer.
Krewer's new paintings are feverish dreamscapes. Larger than life figures, carried by owls and communing with big cats, wander and brawl at night through empty city streets. Ambiguous, intimate, interior scenes are revealed in the moment as if suddenly illuminated by artificial light.
The paintings are intensely personal. Objects, figures and scenes are borne from experience, obsession, fantasy and desire. The artist carries us into his world, providing an alternative way of viewing the one we share.
Krewer (born in Gerolstein, Germany in 1986) studied painting at the Kunstakademie Düsseldorf. Solo exhibitions include boogie nights, Tom Dick or Harry, Düsseldorf; pinkflavor, TRAMPS, New York; and Car Park Godiva, Michael Werner Gallery, London. Krewer currently lives and works in New York.
Eyes on Fire will be on view in two locations, Michael Werner Gallery (4 East 77th Street) and TRAMPS (75 East Broadway, 2nd Floor), starting Thursday, 19 November 2020. The exhibition will be accompanied by a catalogue with text by Yair Oelbaum.
Social distancing will be in effect, and wearing a mask is mandatory.
For more information regarding the exhibition, please contact the gallery at press@michaelwerner.com