GEORG BASELITZ: THE EARLY SIXTIES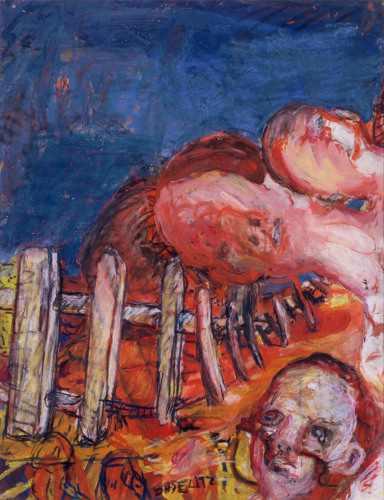 Michael Werner Gallery is pleased to present an exhibition of important paintings and works on paper from the Nineteen Sixties by Georg Baselitz.
Georg Baselitz is perhaps best known for his paintings of inverted portraits, landscapes and still-lifes which emerged in the Nineteen Seventies, yet the roots of his subversive approach to figuration can be traced to the early Nineteen Sixties. Rebelling against the then-dominant styles of Socialist Realism and French-derived Informel, Baselitz developed his own variant of figurative imagery inspired by Italian mannerism, Antonin Artaud, the writings of Comte de Lautréamont and the art of the insane. Whereas his peers sought pictorial invention in contemporary modes of gestural abstraction or socially-oriented figuration, Baselitz moved his art forward by looking back. Engaging classical motifs which referred to the past, Baselitz managed continually to re-imagine and disrupt accepted modes of representation, thereby reinvigorating painterly traditions rejected by his contemporaries as outdated. The ideas and attitudes Baselitz developed in the formative years of the early Nineteen Sixties would come to define the artist's practice throughout his 50-year career.
Georg Baselitz was born Hans-Georg Kern in the Saxon village of Deutschbaselitz in 1938. He would adopt the name Georg Baselitz in 1961, in homage to his birthplace. As a teenager Baselitz began to paint portraits, landscapes and religious subjects. By the late Nineteen Fifties he was enrolled in the state art academy in West Berlin. His formative influences included the Saxon painter Louis Ferdinand von Rayski, Russian 19th- and 20th-century painters and the American abstract expressionists, especially Pollock and Guston. Yet, it was Antonin Artaud who made the deepest and most lasting impression on Baselitz, inspiring the young artist to compose the two "Pandemonium" manifestos of 1961 and 1962. These profoundly existential texts and their accompanying drawings laid bare the artist's intense obsession with sexual imagery, fragmentation and the grotesque.
In 1963 the artist presented his first solo exhibition at Galerie Werner & Katz, Berlin. A public scandal ensued over the percevied obscentity of the exhibited works and led to confiscation by the authorities of two paintings. Georg Baselitz: The Early Sixties features works from the infamous 1963 exhibition and includes related paintings and drawings from that time. These works prefigure Baselitz's important "Hero" and "Fracture" paintings of the late Sixties, in which Baselitz synthesized his many interests with additional sources drawn from mannerism and surrealism. Georg Baselitz: The Early Sixties is a rare opportunity to view often unseen works from a pivotal period in the artist's development.
Recent major exhibitions of Georg Baselitz include retrospectives at Museum Frieder Burda, Baden-Baden; MdM Mönchsberg, Salzburg; and the Royal Academy in London. The Solomon R. Guggenheim Museum in New York City presented the artist's first United States retrospective 1995. Other important exhibitions include Museum of Modern Art, New York; Scottish National Gallery of Art, Edinburgh; Kunstmuseum Basel; Louisiana Museum, Humlebaek; Museo Rufino Tamayo, Mexico City; Stedelijk Museum, Amsterdam; and IVAM Centre Julio Gonzalez, Valencia.
Georg Baselitz: The Early Sixties is on view through 18 June. The exhibition is accompanied by a full-color catalog. Gallery hours are Monday through Saturday, 10AM to 6PM. For more information please call the gallery or visit michaelwerner.com.