GEORG BASELITZ: I WAS BORN INTO A DESTROYED ORDER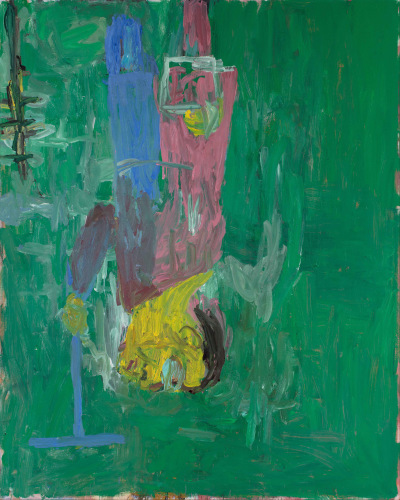 Michael Werner Gallery, London is pleased to present an exhibition of major works by German painter Georg Baselitz, one of the most important painters of the second half of the twentieth century. I Was Born into a Destroyed Order begins in the 1960s and surveys the first three decades of the artist's career. A selection of seminal paintings, works on paper and sculpture will be on view.
Georg Baselitz was born Hans-Georg Kern in the Saxon village of Deutschbaselitz in 1938, into the destruction of the Second World War and the subsequent occupation and partitioning of the artist's homeland. As he explains in a 1995 interview, "I was born into a destroyed order, a destroyed landscape, a destroyed people, a destroyed society. And I didn't want to re-establish an order: I'd seen enough of so-called order." In 1961 he adopted the name of his hometown, and as the art historian Richard Shiff keenly observes, "this action announced the presence of his birthplace in everything he would go on to accomplish: person and place were one." From his origins of destruction and disorder, Baselitz creates a body of work that, in his words, does not develop over time, but instead "each painting destroys the old one."
This exhibition features works from 1960 to the mid-1990s. On view will be works from Baselitz's "Pandemonium" series, an early "Hero" painting as well as important paintings from the "Fracture" series. Baselitz famously sought to separate representation from content by inverting the figure or motif, and the exhibition will include one of his first inverted landscape paintings from 1969. In the 1970s, 1980s, and 1990s, Baselitz continued to experiment with abstraction by rendering the figure upside-down. The exhibition will include some of the artist's most significant paintings from that time as well as an extraordinary block of 22 works on paper from the artist's "Saxon-Motif" drawings of 1975.
Georg Baselitz presented his first solo exhibition at Galerie Werner & Katz, Berlin, in 1963, causing a public scandal with the perceived obscenity of his paintings. He has since been the subject of many important museum exhibitions worldwide. Major exhibitions include Galleria dell'Accademia, Venice; the Hirshhorn Museum and Sculpture Garden, Washington, DC; Fondation Beyeler, Basel; Museum Frieder Burda, Baden-Baden; Royal Academy, London; Louisiana Museum, Humlebaek; IVAM Centre Julio Gonzalez, Valencia; Stedelijk Museum, Amsterdam; Solomon R. Guggenheim Museum, New York; Scottish National Gallery of Art, Edinburgh; and Kunstmuseum Basel, among many others.
Georg Baselitz: I Was Born into a Destroyed Order opens 11 September at Michael Werner Gallery in London and will remain on view through 5 December. Gallery hours are Tuesday through Saturday, 10AM to 6PM. For more information, please contact the gallery at press@michaelwerner.com, visit www.michaelwerner.com, or contact Carrie Rees, Rees & Co. at carrie@reesandco.com. Follow the gallery on Instagram, Twitter, Facebook and Wechat.
To ensure the safety of the public and staff, Michael Werner Gallery, London has implemented social distancing guidelines, which can be found on our website, or by contacting us via email at london@michaelwerner.com, or by calling +44 207 495 6855.