HURVIN ANDERSON: SUBTITLES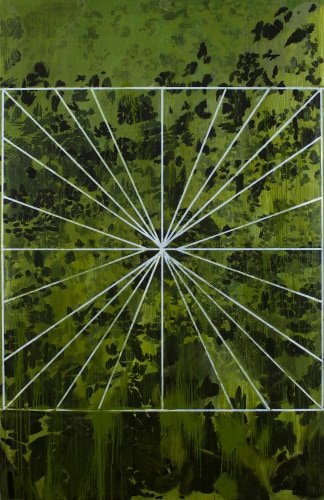 Michael Werner gallery is pleased to present Subtitles, an exhibition of new works by London-based artist Hurvin Anderson.
Hurvin Anderson's paintings depict landscapes where memory and history converge. He paints places he knows, working from drawings, photographs and his own recollections to re-imagine complex spaces emblematic of individual and cultural significance. Whereas previous bodies of work explored the landscape as a site of conflicting cultural and political viewpoints, the artist's latest paintings move deeper into explorations of abstraction and the expressive possibilities of paint. His lush surfaces and inventive palette form intricately layered planes of depth and flatness; objects continually dissolve and re-emerge, creating elusive, ambiguous spaces within each picture. Hurvin Anderson's paintings are a rich and complex amalgam of sensory perceptions that move beyond mere description.
In 2009 Hurvin Anderson presented his first solo museum exhibition as part of Tate Britain's Art Now. Also in 2009 Studio Museum Harlem presented Peter's Series 2007-2009, the artist's first solo exhibition in an American institution. Anderson participated in group exhibitions at Warwick Arts Centre, Coventry; Le Plateau, Fonds régional d'art contemporain d'Ile-de-France, Paris; Camden Arts Centre, London; Leicester Museum and Art Gallery; and Arnolfini, Bristol. He was artist-in-residence at Dulwich Picture Gallery, London, in 2005 and at Caribbean Contemporary Arts, Port of Spain, Trinidad, in 2002. Subtitles is the artist's first solo gallery exhibition in New York.
Subtitles is on view 27 January - 12 March. The exhibition is accompanied by a full-color catalog featuring an interview with the artist by Matthew Higgs. Gallery hours are Monday through Saturday, 10AM to 6PM. For more information please contact the gallery at press@michaelwerner.com.