JAMES LEE BYARS: IS IS AND OTHER WORKS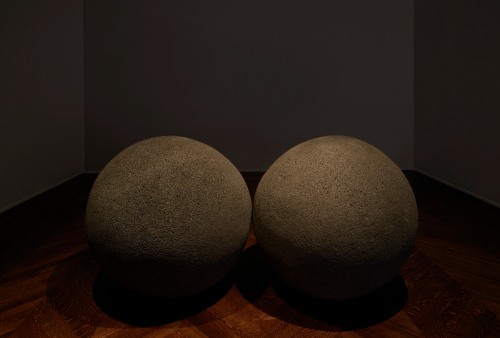 For summer, Michael Werner Gallery, New York is pleased to present Is Is and Other Works, an exhibition of sculpture by James Lee Byars.
Over a career spanning four decades James Lee Byars produced an exceptionally diverse body of work comprising highly refined objects, reductive performances and voluminous correspondence and ephemera. Throughout his life Byars was fascinated with the aesthetic potential of "question". In his legendary early performance "World Question Center", broadcast live on Belgian television in 1969, Byars telephoned several of the world's most renowned scientists, philosophers and artists to determine what questions they believed were of essential importance. That same year Byars was accepted as artist-in-residence at the Hudson Institute, where he worked with Herman Kahn to collect "the one hundred most interesting questions in America at the time." His 1971 performance "The Black Book", enacted in Forêt de Soignes, Brussels, saw Byars distributing what would become one of his best known multiples: an extremely delicate and ephemeral page of black paper upon which is printed in miniscule gold type one hundred questions.
A "totally interrogative philosophy" was for Byars "the highest reality statement" and became the pervasive attitude underlying much of his later work. Byars's interrogative philosophical mode sought its resolution in manifestations of truth, beauty and perfection. Is Is and Other Works presents three late sculptures which exemplify this attitude and the artist's obsession with "question" as an aesthetic precept. "The Figure of Question is in the Room" and "The Figure of the Question of Death", two totemic sculptures in gilded marble, embody Byars's philosophical ideal. Evocative of literal "figures", the sculptures activate the gallery as a space for interrogative contemplation. The monumental sculpture "Is Is" comprises two massive basalt spheres placed side-by-side on the floor of the gallery, almost - but not quite - touching one another. The work further extends Byars's play on abstractions of figurative form, suggesting as well the notion of "bodies" in space, whether atomic or celestial. The severity of form apparent in the exhibition belies the richly conceptual origins of the works on view, provoking viewers in the act questioning. Taken as a group, the sculptures displayed in Is Is and Other Works demonstrate many of the apparent contradictions surrounding his oeuvre: physical and spiritual, tactile and ephemeral, minimal and baroque.
James Lee Byars was born in Detroit in 1932 and studied art and psychology at Wayne State University. He presented his first museum exhibition in 1958, a legendary event that took place in the stairwell of New York's Museum of Modern Art and lasted only one day. Over the following decade Byars lived and worked in Japan where he presented many performances and exhibitions, including "The Performable Square" in the National Museum of Modern Art, Kyoto, in 1962. In 1964 he was invited to present three performances at the Carnegie Museum of Art. Byars returned to America in 1967, dividing his time between New York and Los Angeles; by the 1970s he began to spend increasing amounts of time in Europe. Since that time Byars has been the subject of numerous gallery and museum exhibitions worldwide, including Stedelijk van Abbemuseum, Eindhoven; Kunsthalle Düsseldorf; IVAM Centre del Carme, Valencia; Castello di Rivoli/Museo d'Arte Contemporanea, Turin; The Henry Moore Institute, Leeds; and Fundaçao de Serralves, Porto. Byars died in Cairo in 1997. Important posthumous exhibitions include The Epitaph of Con. Art is which Questions have disappeared?, Kestner Gesellschaft, Hannover (1999); The Arts Club of Chicago (2000); Life Love and Death, Schirn Kunsthalle, Frankfurt and Musée d'Art moderne et contemporain de Strasbourg (2004); The Perfect Silence, Whitney Museum of American Art (2005); I'm Full of Byars, Kunstmuseum Bern (2008); The Perfect Axis, Schloss Benrath, Düsseldorf; and Klein Byars Kapoor, Musée d'art Moderne et d'Art Contemporain, Nice and ARoS Kunstmuseum, Århus, Denmark (2012-2013). In 2013, "The Figure of the Interrogative Philosophy" and "The Figure of the Question of Death" were included in the 55th Venice Biennale exhibition The Encyclopedic Palace, curated by Massimiliano Gioni.
From 15 June through 7 September MoMA PS1 in New York will present James Lee Byars: 1/2 an Autobiography, the most comprehensive survey exhibition of Byars organized in North America since the artist's death in 1997. Organized in cooperation with Museo Jumex in Mexico City, where it debuted this spring, the exhibition features a selection of sculptures, fabric works, performable paper pieces, ink paintings, live performance and ephemera.
Is Is and Other Works is on view at Michael Werner Gallery in New York from 12 June through 29 August 2014. Gallery hours are Monday through Saturday, 10 am to 6 pm through June and Monday through Friday, 10 am to 6 pm during July and August. For more information please email press@michaelwerner.com.