JÖRG IMMENDORFF: QUESTIONS FROM A PAINTER WHO READS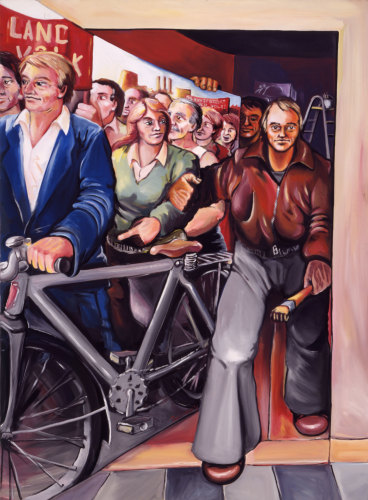 Michael Werner Gallery, New York is pleased to present Jörg Immendorff: Questions from a Painter Who Reads, opening 21 February. This exhibition of paintings is a visual history of one of the most important artists to emerge from post-war Germany and spans four decades of the artist's career from 1974 to 2007.
Jörg Immendorff (1945-2007) is known for an oeuvre that challenged both artistic and political establishments, all with a particular focus on the role of the artist in contemporary society and within history at large. The title of this exhibition, taken from a 1980 painting, recalls a 1935 poem by Bertolt Brecht called "Questions from a Worker Who Reads," which asks if ancient victories were the result of a single hero or a legion of unacknowledged supporters. The exhibition begins in the 1970s, when Immendorff grew disillusioned with politics and increasingly dissatisfied with his role as an artist and sought to produce paintings for and about the working masses. While outwardly political, these works are also deeply personal and question Immendorff's own artistic motives and desires. From the "Maoist Paintings", the exhibition leads into Immendorff's celebrated "Café Deutschland" series. "Café Deutschland" depicts a highly conceptual representation of a divided Germany – part club, part theatre stage – in which a disparate cast of characters from all sides of the ideological struggle play their parts in a burlesque of politics, culture and identity. From the imagined space of Café Deutschland, the exhibition moves to the artist's late paintings, which were influenced by Immendorff's scientific and art historical interests. Immendorff explored motifs from sixteenth-century artists and thinkers like Hans Baldung Grien, philosopher Jakob Böhme, and botanical illustrator Albertus Seba, and created a large body of personally resonant work despite his struggles with the degenerative neurological disease ALS. Together, the four decades of work presented in this exhibition form a highly personalized visual history of the artist. Immendorff lived and worked in Düsseldorf and Hamburg until his death in 2007.
Jörg Immendorff's work has been exhibited internationally since the mid-1960s. This exhibition coincides with the major retrospective For All Beloved in the World, which recently opened at Haus der Kunst, Munich and will travel to Museo Reina Sofía, Madrid later in 2019.
Questions from a Painter Who Reads will open on 21 February at Michael Werner Gallery, New York and will remain on view through 13 April. Gallery hours are Monday through Saturday, 10AM to 6PM. For more information, please contact the gallery at press@michaelwerner.com.