MARCEL BROODTHAERS: DÉCOR: A CONQUEST AND BRICKS: 1966-1975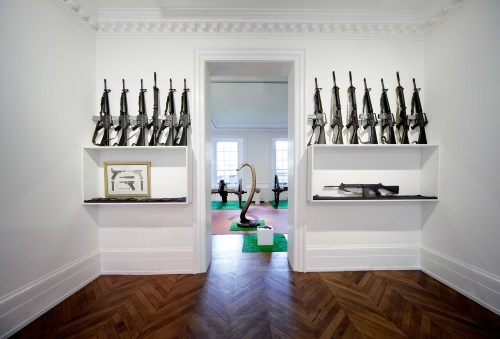 Michael Werner Gallery is pleased to present two major concurrent exhibitions by Marcel Broodthaers. Décor: A Conquest and Bricks: 1966-1975 will provide viewers with an opportunity to see two distinct and rarely-exhibited bodies of work by one of the most important artists of the last century. This is the first showing of Décor: A Conquest in the UK since its debut in London in 1975.
Décor: A Conquest was the culmination of Marcel Broodthaers' life's work and was the last exhibition he would present before his death. It is a legendary artwork, now widely considered to be among the most important artistic manifestations of the twentieth century. Décor: A Conquest was originally conceived in 1974 when curator Barry Barker invited Broodthaers to present a major work to inaugurate London's new Institute of Contemporary Art. Broodthaers immediately began work on Décor: A Conquest, ultimately realising the work in June of the following year. Broodthaers presented two "period" rooms at the ICA: one titled "XIXth Century", displaying a stuffed python amidst cannons, potted palms and Edwardian candlesticks and chairs; and another titled "XXth Century", featuring patio furniture, an unfinished puzzle depicting the Battle of Waterloo (after an oil by W. Heath) and handguns and rifles displayed atop pedestals and shelves. The result is a complex and emotionally charged ensemble which subtly explores ideas about war, conflict, interiority and comfort. The work anticipates "installation" as a conspicuous mode of expression and is daring in its use of objects to relate a narrative. With Décor: A Conquest, Broodthaers moved beyond Marcel Duchamp's ideas about the resonance of objects to focus instead on the stories those objects can tell.
Since its debut exhibition at London's ICA, Décor: A Conquest has been shown at documenta VII, Kassel (1982) and Hamburger Banhof, Berlin (1999). It was presented for the first time in the United States in 2007 at Michael Werner Gallery, New York before traveling to The Arts Club of Chicago. Décor: A Conquest was featured prominently in two recent museum exhibitions: In Praise of Doubt, François Pinault Foundation, Punta della Dogana, Venice (2011) and Siege, Fire and Reconstruction of San Sebastian, Museo San Telmo, San Sebastian (2013).
Michael Werner Gallery's presentation of Décor: A Conquest in London is complimented by a parallel exhibition of Broodthaers's "brick" works in the gallery's ground floor space. The common masonry brick was a recurring motif in Broodthaers's oeuvre, a visual device that spoke to the concepts of artificiality and repetition which so dominated the artist's thinking and process. Beginning as early as 1966 and continuing through to the end of his career, Broodthaers created several brick-themed works in a range of materials and configurations. The current exhibition will recreate the 1974 exhibition Catalogue/Catalogus from the Palais de Beaux-Arts, Brussels and will include many of the works originally shown there.
Marcel Broodthaers made numerous museum exhibitions during his lifetime, including Eulogy of the Subject at Kunstmuseum Basel and The Angelus of Daumier at Centre Pompidou. London's Tate Gallery presented the first posthumous retrospective of the artist in 1980. Major museum exhibitions include Museum Boymans-van Beuningen, Rotterdam (1981); Kunsthalle Bern (1982); Walker Art Center, Minneapolis (1989); Galerie National du Jeu de Paume, Paris (1991); Stedelijk van Abbemuseum, Eindhoven (1992); Fundació Antoni Tàpies, Barcelona (1997); and Palais des Beaux-Arts, Brussels (2001).
On 11 December ICA London will present a selection of films from throughout Broodthaers's career, including "La Bataille de Waterloo". Filmed in London at the time of the first presentation of Décor: A Conquest, "La Bataille de Waterloo" depicts the annual Trooping of the Colours and features scenes shot inside the ICA exhibition. This rarely-seen film was first shown at the Tate in 1976 and has since come to be seen as an integral component to Décor: A Conquest.
Décor: A Conquest and Bricks 1966-1975 by Marcel Broodthaers are on view at Michael Werner Gallery in London from 21 November 2013 through 18 January 2014. Gallery hours are Tuesday through Saturday, 10AM to 6PM. For more information about the exhibition please ­email press@michaelwerner.com.