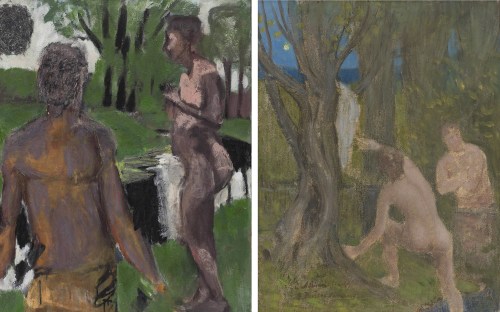 Michael Werner Gallery is pleased to present Markus Lüpertz, Pierre Puvis de Chavannes at our East Hampton gallery, located at 50 Newtown Lane. On view will be paintings, works on paper, and sculpture by Markus Lüpertz and paintings and works on paper by Pierre Puvis de Chavannes.
Lüpertz and Puvis de Chavannes are from different centuries, but both deal with the history of painting as part of a lineage of great painters throughout time. For Lüpertz, the past and the present are blurred. He has said, "I live with artists I routinely retrieve from the recesses of history, and then they become part of my everyday life, they are my companions, they exist for me. I deal with them as if they were alive." Puvis de Chavannes was motivated to pursue a career in painting after seeing the art of great Italian renaissance masters, Giotto and Piero della Francesca. Influenced by the past, he pushed painting towards modernity and was a major influence on Cézanne, Gauguin, Van Gogh, Picasso, and the Surrealists.
Markus Lüpertz (b. 1941), one of the most important and influential artists to emerge from post-war Germany, has been exhibiting his work worldwide for over fifty years. Important recent retrospective surveys have been shown at Kunst-und Austellungshalle der Bundesrepublik Deutschland, Bonn; Gemeentemuseum, The Hague; The Hermitage State Museum, St. Petersburg; Musée d'Art Moderne de la Ville de Paris; Hirshhorn Museum, Washington, D.C.; The Phillips Collection, Washington, D.C.; and Haus der Kunst, Munich.
Born into French nobility, Pierre Puvis de Chavannes (b. 1824, d. 1898) is known as a forefather of modern art. His work hangs in major museums around the world, including the Louvre, the Musée d'Orsay, the Petit Palais, Musée Picasso, the Rijksmuseum, the Art Institute of Chicago, the Metropolitan Museum of Art, the Smithsonian and the Carnegie Museum of Art, to name only a few.
Markus Lüpertz, Pierre Puvis de Chavannes will be on view beginning Wednesday, 2 September. Our East Hampton gallery is open Tuesday through Sunday from 11am to 6pm. The safety of our staff and visitors is our top priority. We ask that you respect social distancing guidelines and wear a mask at all times.
For more information regarding the exhibition, please contact the gallery at press@michaelwerner.com.