MARKUS LÜPERTZ: PASTORAL THOUGHTS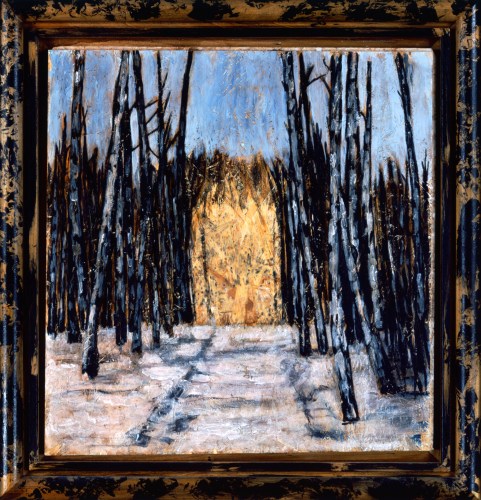 Michael Werner Gallery is pleased to present Pastoral Thoughts, an exhibition of new paintings by German artist Markus Lüpertz. The exhibition is on view through 22 January 2011.
In a career spanning nearly 50 years, Markus Lüpertz has consistently challenged the prescriptions of contemporary art. Lüpertz's ideas and inspiration are often rooted in the rich and varied history of painting, yet the artist makes no claim to any one stylistic approach. His first mature paintings addressed "pop" imagery - a common theme among artists at that time - but with an extemporaneous paint handling typically associated with the previous generation's expressionist style. Throughout the ensuing decades, Lüpertz would continue to broaden (or disappoint) viewers' expectations of what a painting should, or could, be. His "German Motif" paintings of the 1970s tackled major themes of post-war German identity, a subject many considered to be taboo. While many of his contemporaries were occupied with a then-emerging postmodernism, in the 1980s Lüpertz used his art to reexamine the importance of narrative in painting. His works of the past two decades have focused on classical themes as the source for an intense exploration of the elusive common ground between abstraction and figuration. The artist has never shied away from controversy, nor hesitated to re-imagine the major stylistic conventions of modern art.
The works in Pastoral Thoughts offer viewers further evidence of how disregard for the artistic conventions of the day has become a defining characteristic of Lüpertz's practice. The exhibition presents new series of paintings depicting landscape motifs. Derived not from observation of the natural world, but from photographic sources and personal memories, these seemingly conservative paintings are in fact rich with layers of meaning, association and technical invention. Lüpertz's interest in the concept of a motif as the source for invention and abstraction in painting is keenly evident here, as is his deep concern for the material properties of painting. Laying bare the support of several works in the series, the artist explores the use of specific material as an element of both structural and poetic potential.
Markus Lüpertz was born in 1941 in Liberec, Bohemia, in the current Czech Republic. His work has been presented in numerous international exhibitions, including solo showings at the Stedelijk Museum, Amsterdam; Kunstsammlung Nordhein-Westfalen, Düsseldorf; IVAM Centro Julio Gonzalez, Valencia; Kunstmuseum Bonn; Museo Nacional Centro de Arte Reina Sofia, Madrid; and Museum Ludwig, Cologne, among others. The recipient of several honors and awards, including the Villa Romana prize, the Deutches Hritikverband Award and the Julio Gonzalez prize, Lüpertz served as director of the Kunstakademie Düsseldorf from 1987 to 2009. Last year the Kunst- und Austellungshalle der Bundesrepublik Deutschland in Bonn presented "Highways and Byways", the most comprehensive retrospective to date of the artist's work. Markus Lüpertz lives and works in Berlin, Düsseldorf and Karlsruhe, Germany.
Pastoral Thoughts is accompanied by a fully illustrated catalogue featuring a text by Annabelle Ténèze, curator at the Musée national Picasso, Paris. Gallery hours are Monday through Saturday from 10 am to 6 pm. The gallery is closed from 23 December through 2 January. For more information please contact the gallery at press@michaelwerner.com.