MARKUS LÜPERTZ: BOZZETTI FOR HERCULES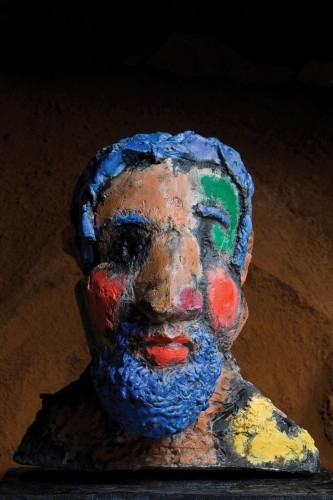 Michael Werner Gallery is pleased to present Bozzetti for Hercules, an exhibition of sculpture and works on paper by German artist Markus Lüpertz. Originally exhibited from 2010-2011 at the LehmbruckMuseum in Duisburg, Bozzetti for Hercules is the gallery's first exhibition of sculpture by the artist since About the Three Graces in 2004.

In 2010, Markus Lüpertz saw the installation of his largest work to date: weighing twenty-three tons and standing at a prodigious sixty feet, Lüpertz's "Hercules" now looms atop a mine shaft in the city of Gelsenkirchen, a former mining metropolis in the Ruhr region of Germany. Despite its triumphant heft, Lüpertz's Hercules is far from the character's classical depictions. Missing an arm and decorated with bright red lips and a garish blue tangle of hair, Lüpertz's figure subverts traditional renderings of the hero. Unfettered by the shackles of classicism, Lüpertz's Hercules is free to struggle — and triumph – with human vulnerability; a demigod in the true likeness of man.

The exhibition at Michael Werner includes a large selection of sculptural and drawn models (or "bozzetti") of the Gelsenkirchen "Hercules" and provides viewers with a rare look at the artist's process. Amputated bronze figures stand balanced in an array of limbless iterations with parts painted in incongruently bold colors. These fractured figures simultaneously represent the trials of Hercules as well as those of the artist. Paired with a large selection of gracefully rendered figure studies on paper, Bozzetti for Hercules depicts an intersection of forms and ideas, a delicate balance of the sacred and profane.

Markus Lüpertz was born in 1941 in Liberec, Bohemia, in the current Czech Republic. His work has been presented in numerous international exhibitions, including solo showings at the Stedelijk Museum, Amsterdam; Kunstsammlung Nordhein-Westfalen, Düsseldorf; IVAM Centro Julio Gonzalez, Valencia; Kunstmuseum Bonn; Museo Nacional Centro de Arte Reina Sofia, Madrid; Museum Ludwig, Cologne; Kunst- und Austellungshalle der Bundesrepublik Deutschland, Bonn; and Gemeentemuseum, The Hague, among others. The recipient of several honors and awards, including the Villa Romana prize and the Julio Gonzalez prize, Lüpertz served as director of the Kunstakademie Düsseldorf from 1987 to 2009. Markus Lüpertz lives and works in Berlin, Düsseldorf and Karlsruhe, Germany.

Bozzetti for Hercules is on view from 13 March through 13 April 2013. A full-color catalogue with text by Eric Darragon accompanies this exhibition. Gallery hours are Monday through Saturday from 10AM to 6PM. For more information, please email press@michaelwerner.com.