MARKUS LÜPERTZ: TENT PAINTINGS, 1965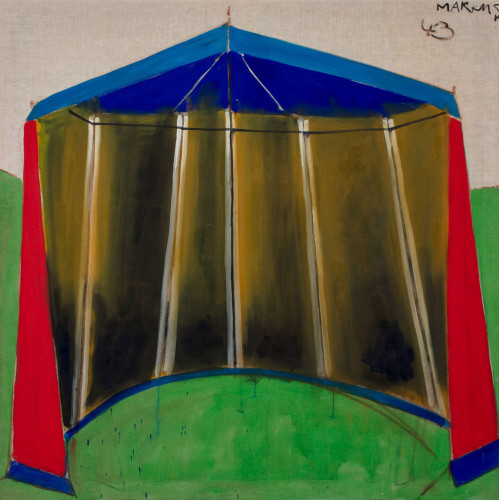 Michael Werner Gallery, London is pleased to present Markus Lüpertz: Tent Paintings, 1965, opening 27 April. The exhibition is a rare opportunity to view key early works by this important artist.
In 1963 Markus Lüpertz (b. 1941, Liberec, Bohemia) embarked on his series of "dithyrambic" paintings, his first independent and mature works. The ancient term "dithyramb" refers to ecstatic songs and rituals honouring the god Dionysus and was used by the artist to describe a working state of excited improvisation and spontaneous invention at a time when he was searching for new aesthetic forms in his painting. Markus Lüpertz's earliest "dithyrambic" pictures were pictorial inventions of sculptural forms in planar space that lie somewhere between abstract and representational imagery: forms evocative of architecture or figuration, though not always overtly so. The artist later augmented his practice of inventing forms by seeking fresh inspiration and new motifs from a variety of unlikely sources, and in 1965 he began a series of paintings depicting tents and tent-like forms the artist called "diamonds".
Taken from illustrations in a department store catalogue, the motif of the tent offered Lüpertz a way to further develop his ideas of abstraction and pictorial invention through theme and variation. He was free to explore line, form and colour while moving fluidly between pictorial representation and abstract invention. The resulting objects, writes Siegfried Gohr, are "…both real and unreal…the point was the poetical effect of the painting, beyond questions of the motif." Here the adjective "dithyrambic" comes to refer not only to the artist's state of heightened creativity but also to the mood of "poetic reverberation" he drew out of a seemingly banal source. The vibrant immediacy of these works resonates still, over fifty years after their creation.
Markus Lüpertz is a highly accomplished painter and sculptor and has been exhibiting his work worldwide for over fifty years. He entered the art academy in Krefeld, Germany at the age of fifteen and later also studied in Düsseldorf. He first exhibited with Michael Werner in Berlin in 1968 and gained international acclaim in 1977 with a major museum exhibition at the Stedelijk in Amsterdam. Lüpertz participated in the legendary 1980 exhibition A New Spirit in Painting at London's Royal Academy and was an important contributor to the controversial Zeitgeist exhibition in Berlin the following year. Lüpertz served as director of Kunstakademie Düsseldorf from 1987 to 2009 and is the recipient of numerous awards. In recent years important retrospective surveys have been shown at Kunst- und Austellungshalle der Bundesrepublik Deutschland, Bonn (2009); Gemeentemuseum, The Hague (2011); The Hermitage State Museum, St. Petersburg (2014); and the Musée d'Art Moderne de la Ville de Paris (2015). Last year, two simultaneous retrospectives were presented in the United States at the Hirshhorn Museum and the Phillips Collection in Washington, DC.
Markus Lüpertz: Tent Paintings, 1965 will open on 27 April and will remain on view through 6 July. Gallery hours are Tuesday through Friday, 10AM to 6PM. For more information, please contact the gallery at press@michaelwerner.com.