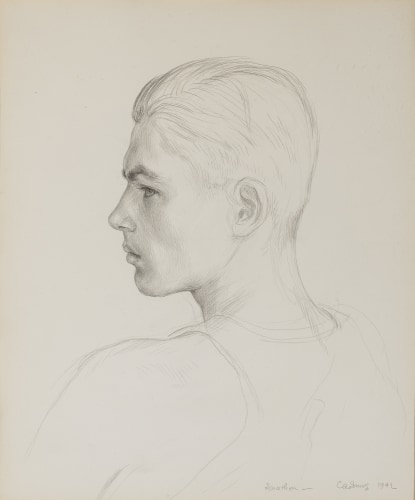 "I believe in exaggeration. People's noses should be rubbed in all sorts of things – pleasant and unpleasant."

Organized in collaboration with Graham Steele, Michael Werner Gallery is pleased to present Paul Cadmus: Pleasant and Unpleasant at our East Hampton gallery. With over 60 works on view created over the span of 60 years, the exhibition presents a timely exploration of a career devoted to a balance between traditional techniques of representation and a radical assault on the heteronormativity of the pre-War New York society.

Cadmus (b. 1904 in New York, d. 1999 in Weston, CT) was an accomplished painter who became infamous for his controversial, gritty, urban scenes that pushed the boundaries of acceptability in both subject matter and style. While he worked slowly in the meticulous Old Master technique of egg tempera painting, producing only two to three paintings a year, his subjects ranged from drunken soldiers to prostitutes to raucous locker rooms-- the most contentious of which were done with the support of the WPA. Alongside his painting, Cadmus was a prolific master draftsman in the tradition of the French School (his father from whom he inherited his talent was a student of Robert Henri). The vast majority of his drawings depict the male nude and balanced the dual needs of income from a wealthy Queer collector base as well as allowing him to explore, without constraint, his life-long love affair with the male form. His poses, gestures and expressions helped to create a Queer visual language used by a generation of artists who celebrate and revel in this culture.

While several of the works on view are studies for paintings, they are undoubtedly works of art in their own right. In technique and subject, Cadmus's drawings connect him with a long line of Old Master painters, like Signorelli, Mantegna and Michelangelo, who portrayed the beauty of the muscular male body, and his surface treatments, stains, washes and color choices demonstrate the delight in the materiality of drawing itself.

Perhaps most seductive to the historically-orientated viewer, these drawings create, in their multiplicity, a portrait of the artist himself. From his relationship with Jared French and George Platt Lynes to his depictions of famous friends and gay-friendly locations from Fire Island to Mallorca, to 40 years of loving examinations of his last lover Jon Anderson, these works on paper build a map of a complete life lived out on and in paper.

Cadmus's work can be found in the permanent collections of museums across the United States, including the Art Institute of Chicago; Carnegie Institute Museum of Art, Pittsburgh; Dallas Museum of Fine Arts; Detroit Institute of Arts, Los Angeles County Museum of Art; The Metropolitan Museum of Art, New York; The Morgan Library, New York; Museum of Fine Arts, Boston; Museum of Modern Art, New York; National Gallery of Art, Washington, DC; Smithsonian American Art Museum, Washington, DC; Philadelphia Museum of Art; Whitney Museum of Art, New York; among many others.

Paul Cadmus: Pleasant and Unpleasant will be on view beginning Thursday, 1 July. Our East Hampton gallery is open Thursday through Sunday from 11am to 5pm. The safety of our staff and visitors is our top priority. We ask that you respect social distancing guidelines and wear a mask at all times.

For more information regarding the exhibition, please contact the gallery at press@michaelwerner.com.