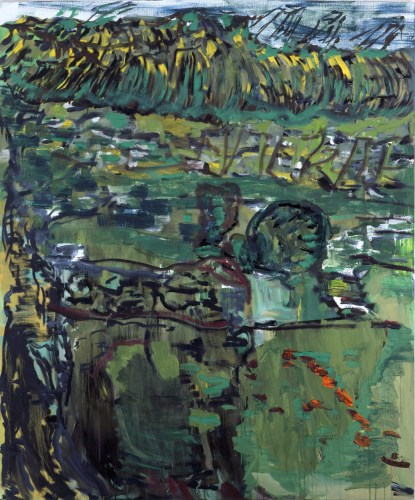 Michael Werner Gallery is pleased to present Per Kirkeby: Paintings and Sculptures in Bronze at our East Hampton gallery, located at 50 Newtown Lane. On view will be paintings, bronze sculptures and works on paper by the late Danish artist, Per Kirkeby (b. 1938, d. 2018). With a career spanning over six decades, Kirkeby was an accomplished painter, sculptor, writer, and filmmaker, and one of the most influential and versatile artists of his generation.
Born in Copenhagen, Kirkeby studied geology in the 1950s, traveling on expeditions to Greenland and the Artic. He enrolled in Copenhagen's Experimental Art School in the 1960s, where he briefly participated in the Fluxus movement. His early studies of geology and the natural world were never too far from his work, and he described his paintings as a "process of sedimentation." This exhibition will include major paintings from 1994 to 2011 as well as a select group of smaller, figurative bronzes from the 1980s.
Works by Kirkeby are found in many museum collections worldwide including Tate, London; Centre Pompidou, Paris; Metropolitan Museum of Art, New York; and Museum of Modern Art, New York, among many others. Important solo museum exhibitions have been held at Tate Modern, London; Museum Ludwig, Cologne; Louisiana Museum of Modern Art, Humlebaek; Whitechapel Art Gallery, London; BOZAR Van Abbemuseum, Eindhoven; Centre for Fine Arts, Brussels; and the Beaux-Arts de Paris. An exhibition focused on the artist's sculpture in bronze is currently on display at Louisiana Museum of Modern Art until 6 December.
Per Kirkeby: Paintings and Sculptures in Bronze will be on view beginning Wednesday, 25 November. Our East Hampton gallery is open Wednesday through Sunday from 11am to 6pm. The safety of our staff and visitors is our top priority. We ask that you respect social distancing guidelines and wear a mask at all times.
For more information regarding the exhibition, please contact the gallery at press@michaelwerner.com.