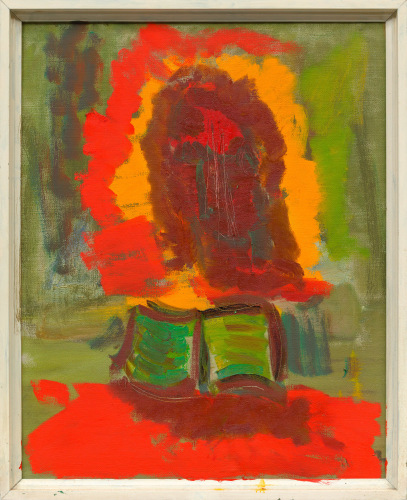 Michael Werner Gallery, New York is pleased to present Per Kirkeby: Overpaintings, an exhibition of übermalungen, or overpaintings, by the late Danish artist Per Kirkeby (b. 1938, d. 2018). An accomplished painter, sculptor, writer, and filmmaker, Kirkeby's career spanned over six decades, making him one of the most influential and versatile artists of his generation.
After studying geology and traveling on expeditions to Greenland and the Arctic in the late 1950s, Kirkeby enrolled in Copenhagen's Experimental Art School, where he participated in the Fluxus movement. Shortly after, in the mid 1960s, he began his first experimentations with overpaintings. This was several years after another Danish artist, Asger Jorn, exhibited his overpaintings, called Modifications, in 1959. By painting over amateur paintings, Jorn sought to disfigure and subvert the meaning of the work. In contrast, Kirkeby's overpaintings were an investigation into, as he says, "what lay beyond the ideas about a narrowly personal painting." Kirkeby painted over artist friends' paintings, not in order to deface but to create a work that was a common labor between artists.
As time progressed, Kirkeby began painting over reproductions and amateur paintings as well. The artist says of these paintings, "the strange thing was that they came to play a big role for me...they became a kind of key-picture." In these paintings, Kirkeby seeks to reveal or create structures based on memory and form. In this exhibition, romantic images, portraiture, landscape and country scenes are repainted and reworked. As a genre, the overpaintings add another layer of understanding to the career of one of the 20th century's most important painters.
Works by Kirkeby are found in many museum collections worldwide including Tate, London; Centre Pompidou, Paris; Metropolitan Museum of Art, New York; and Museum of Modern Art, New York, among many others. Important solo museum exhibitions have been held at Tate Modern, London; Museum Ludwig, Cologne; Louisiana Museum of Modern Art, Humlebaek; Whitechapel Art Gallery, London; BOZAR Van Abbemuseum, Eindhoven; Centre for Fine Arts, Brussels; and the Beaux-Arts de Paris. A recent exhibition focused on the artist's sculpture in bronze was on display at Louisiana Museum of Modern Art last year.
Per Kirkeby: Overpaintings opens 15 September at Michael Werner Gallery in New York. Social distancing is in effect and wearing a mask is mandatory. Gallery hours are Monday through Saturday, 10AM to 6PM.