PER KIRKEBY: RECENT PAINTINGS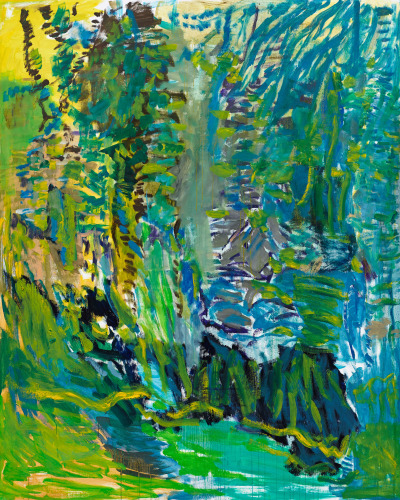 Michael Werner Gallery is pleased to present an exhibition of recent paintings by Danish artist Per Kirkeby. This is the first exhibition in London of new works by the artist since his 2009 retrospective exhibition at Tate Modern.
Per Kirkeby is one of the most important painters of his generation and widely respected as an accomplished filmmaker, author, architect and visual artist working in a variety of media. Over a career spanning five decades he has developed a unique approach to painting, gradually refining a personal palette and vocabulary of images derived primarily from observations of the natural world. Kirkeby's ideas about landscape and his sensitivity to natural light and color are easily traced to his study of natural history and geology at the University of Copenhagen where, as a student in the late 1950s, he participated in numerous expeditions to the Arctic and Greenland. These experiences provided an important visual foundation for Kirkeby's future practice, especially in the case of painting, which the artist often describes as an ongoing "process of sedimentation". An equally important touchstone for Kirkeby is his evolving dialogue with art history, in particular modernist abstraction, 17th century Dutch still-life painting, Northern European landscape painting and Byzantine art. Driven by deeply conceptual interests in science, art, history and literature, Kirkeby's art remains grounded in painting. It is this unlikely synthesis which marks Kirkeby's profound contribution as an artist.
The seven paintings on view explore the indeterminate space between nature and abstraction that has fascinated the artist for decades. The works are populated by seemingly figurative forms—trees, planks, human figures or the mouths of caves—which encourage a range of associations beyond those typically derived from landscape motifs. Kirkeby's recent paintings engage in a complex play of scale and spatial depth, challenging conventional expectations of pictorial space. Viewers familiar with Kirkeby's often somber pictures will be immediately struck by the vibrant colors that further enhance the disorienting atmosphere of these paintings.
Per Kirkeby was born in 1938 in Copenhagen, where he continues to live and work. By the time he earned his master's degree in arctic geology in 1964 Kirkeby had already presented his first exhibition of paintings and was an active participant, together with Nam June Paik, Joseph Beuys and Jörg Immendorff, in the Fluxus events occurring at Copenhagen's Experimental Art School. The artist represented Denmark in the 1976 Venice Biennale and later participated in Documenta VII and Documenta IX. A major retrospective exhibition was presented at the Tate in 2009. Other solo museum exhibitions include Van Abbemuseum, Eindhoven; Kunsthalle Bern; Castello di Rivoli, Turin; Whitechapel Art Gallery, London; Museum Ludwig, Cologne; Musée d'Art Moderne de la Ville de Paris; Louisiana Museum of Modern Art, Humlebaek; and BOZAR Centre for Fine Arts, Brussels. A retrospective exhibition of the artist's paintings and sculpture was organized by The Phillips Collection, Washington DC, in 2012. Works by Kirkeby are found in many museum collections including the Tate; Centre Pompidou, Paris; Metropolitan Museum of Art, New York; and Museum of Modern Art, New York, among many others.
Per Kirkeby: Recent Paintings is on view from 5 June through 27 July. A full-color catalogue accompanies the exhibition. Gallery hours are Tuesday through Saturday from 10AM to 6PM. For more information, please contact press@michaelwerner.com