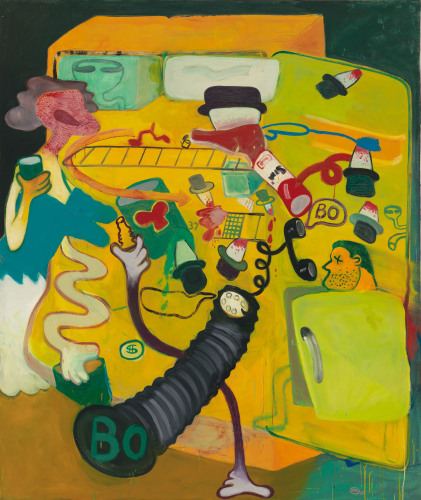 Michael Werner Gallery, New York is pleased to present Peter Saul: Murder in the Kitchen, Early Works, featuring paintings and works on paper from 1959 to 1966. The exhibition charts the artist's development as he emerges as one of the most original voices in 20th century American painting.
Peter Saul (b. 1934) has a career that spans over 60 years and a body of work that is difficult to categorize, particularly since he never wanted to belong to any artistic group. After graduating from art school in 1956, Saul moved to Europe, leaving an oppressive America steeped in McCarthyism with the intention of never returning. While abroad, Saul followed what he thought was expected of an artist and painted abstract works, but ultimately he wanted to create a signature style of his own.
Arriving in Paris in 1958, the artist began to incorporate into his paintings representational images of the America of his childhood: Superman, Donald Duck, Mickey Mouse, capital punishment, and the comic strip Crime Does Not Pay. He sought out further American imagery from publications like LIFE, TIME, and MAD Magazine, which were difficult to obtain in Europe. Using these distinctive visuals in his painting was a revelation to him. Discussing his style from that time, Saul explains the work produced an "obvious narrative that surprised me because usually I did not know what would happen next."
Away from America, where artists started making minimalist work, Saul created narrative-driven paintings that critiqued American culture. By the time he moved back to America in 1964, the narrative was more defined, his figures more grotesque, and his colors more garish. His signature, innovative style was born from his ability to allow the painting to speak for itself. "I had to divorce myself from the picture," Saul explains, "and say to my picture: 'you can be anything you want: you can be fascist, you can be cruel, you can be any damn thing, just do it.'"
Murder in the Kitchen, Early Works includes his most iconic work from this time. The paintings and drawings on view feature crimes, executions, and Superman, all recurring scenes and figures in Saul's early work. Also highlighted will be paintings from his famous Ice Box series as well as an early painting from his Vietnam series. The exhibition will be accompanied by a catalogue and includes loans from private and public collections. The exhibition amplifies Peter Saul's retrospective at the New Museum, Peter Saul: Crime and Punishment, now extended through January 3, 2021.
Since his first solo exhibition, in Chicago in 1961, Peter Saul has exhibited his work throughout the United States and internationally. His works are found in numerous museum collections worldwide, including the Metropolitan Museum of Art, New York; Museum of Modern Art, New York; Whitney Museum of American Art, New York; Art Institute of Chicago; Carnegie Museum, Pittsburgh; Centre Pompidou, Paris; Los Angeles County Museum of Art; Moderna Museet, Stockholm; Museum Ludwig, Cologne; and Stedelijk Museum, Amsterdam. Aside from the retrospective at the New Museum, recent important exhibitions include Peter Saul at the Schirn Kunsthalle in Frankfurt as well as Pop, Funk, Bad Painting and More at Les Abattoirs in Toulouse and Le Delta in Namur.
Peter Saul: Murder in the Kitchen, Early Works opens at Michael Werner Gallery, New York on September 17 and will remain on view through November 14. Gallery hours are Tuesday to Saturday, 11am to 5pm, with appointments recommended but not required. Open on Mondays, but only by appointment. Social distancing will be in effect, and wearing a mask is mandatory. For more information, please contact the gallery at press@michaelwerner.com.