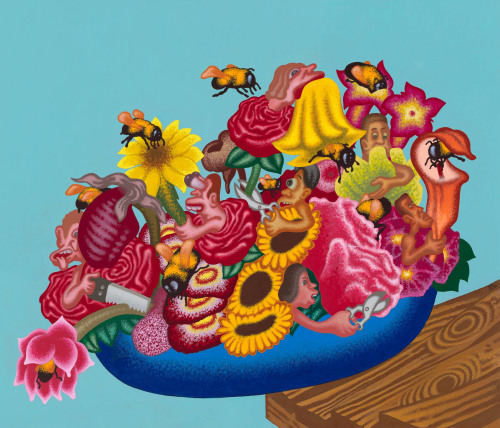 Michael Werner Gallery and Venus Over Manhattan, New York are pleased to present a two-part exhibition of new paintings and works on paper by the eminent and iconic American painter Peter Saul (b. 1934).
Gustave Courbet famously declared, "Historical art is in essence contemporary." Similar to radical, historical painters such as Eugène Delacroix, Courbet, and Édouard Manet, Peter Saul sensationalizes the present. Saul states, "I would think that a person would want to be provoked. Work that doesn't provoke me, I don't remember for thirty seconds. I like to think of paintings and art as some kind of news."
Throughout his decades-long career Saul has pitilessly portrayed a wide range of topics from American politics to the consumerism of post-war society, as well as art history and the role of the artist, consistently imbuing each work with his singular vision. Covering the Vietnam War, racism, police brutality, religion, and almost every American president from Nixon to Trump, Saul's work is at once prescient and timeless.
In these new paintings, Saul addresses many issues including climate change. One pair of paintings depicts an overpopulated Manhattan island, surrounded by rising waters with a drowning Statue of Liberty. In other paintings, nature fights for survival in a benign-looking bowl of flowers. Saul has long been and remains a forebearer in his quest to bring critical topics to the canvas and record the actual issues of the day without mercy, reliably putting him at odds with prevailing trends of the artworld.
Since his first solo exhibition in 1961, Peter Saul's work has been exhibited throughout the world. His paintings are found in numerous museum collections worldwide, including the Metropolitan Museum of Art, New York; Museum of Modern Art, New York; Whitney Museum of American Art, New York; Art Institute of Chicago; Carnegie Museum, Pittsburgh; Centre Pompidou, Paris; Los Angeles County Museum of Art; Moderna Museet, Stockholm; Museum Ludwig, Cologne; and Stedelijk Museum, Amsterdam. Recent important exhibitions include Peter Saul at the Schirn Kunsthalle in Frankfurt, Pop, Funk, Bad Painting and More at Les Abattoirs in Toulouse and Le Delta in Namur, and his first retrospective in New York, Peter Saul: Crime and Punishment at the New Museum. Saul's first extensive monograph will be published by Rizzoli this fall.
Peter Saul: New Paintings opens on Thursday 6 May and will remain on view through Saturday, 26 June. The two-part exhibition can be viewed at Michael Werner Gallery on 4 East 77th and at Venus Over Manhattan at 120 East 65th Street. A full color catalogue will accompany the exhibtion.
Michael Werner Gallery hours are Tuesday to Saturday from 10am to 6pm. The gallery is open on Monday by appointment only. Social distancing is in effect and wearing a mask is mandatory. For more information, please contact the gallery at press@michaelwerner.com.