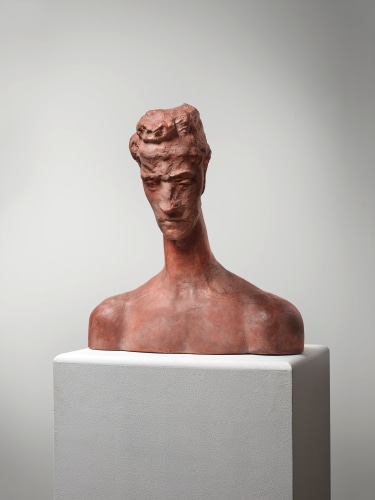 Michael Werner Gallery is pleased to present an exhibition of works by Wilhelm Lehmbruck (1881-1919). Wilhelm Lehmbruck is a seminal figure in the development of modernism and the first German sculptor of the twentieth century to significantly impact art on an international scale. This is the first major Lehmbruck exhibition in Great Britain since a 1957 exhibition at Tate Gallery and provides a unique opportunity to view significant, historical works by an artist rarely seen in this capacity.

A successor of Auguste Rodin and Aristide Maillol, Lehmbruck's contribution to sculpture was distinctly modern. His achievement was of particular importance to a later generation of sculptors, chief among them Joseph Beuys, who openly credited his predecessor as the inspiration to begin his own work in sculpture. In a moving acceptance speech given on the occasion of being awarded the Lehmbruck Prize in 1986, Beuys honored the artist as his inspiration and mentor. As Lehmbruck's biographer Paul Westheim wrote in 1922, describing the artist's sadly truncated legacy, "Lehmbruck's art remains a torso...He has given us much that is significant, but, judging from his beginnings, we had the right to expect more..."

In 1895, at the age of 14, Lehmbruck entered the School of Arts and Crafts in Düsseldorf and later received specialized studies at the Düsseldorf Academy - training typical for aspiring sculptors of the time. While studying at the Academy, Lehmbruck adhered to the institution's traditional philosophy but was mindful of modern developments in painting and sculpture. A major Rodin exhibition, presented in Düsseldorf in 1904, made a deep impression on Lehmbruck and allowed him to conceive of a break with the traditions that had guided him during his student years.

Beginning in 1907 Lehmbruck made several trips to Paris and eventually settled there with his wife in 1910. It was in Paris that his unique style began to emerge. Gradually moving away from the neoclassical foundations of his work, he began to fuse elements from his traditional formal vocabulary with a range of sources including Romanticism and the Gothic.

Lehmbruck participated in the famous Armory Show of 1913 and had his first solo exhibition in 1914, at Galerie Levesque in Paris. With the outbreak of World War I, he returned to Germany, arriving first in Cologne and Düsseldorf and later Berlin. During the war he worked briefly in a field hospital. His already fragile sensibility, fraught with self-doubt and prone to melancholy, did not withstand the horrors of war. Tragically, he took his own life in 1919 at the age of 38, leaving no immediately apparent successor. While the Nazis would later denounce Lehmbruck as "degenerate", his work became for many a symbol of creative freedom. Notably, in 1955, Lehmbruck's 1911 bronze "Die Kniende (Kneeling Woman)" was installed in the entrance hall of the first documenta in Kassel.
Major sculptures by Wilhelm Lehmbruck are included in a number of international public collections, including Museum of Modern Art, New York; National Gallery of Art, Washington, D.C.; Tate Gallery, London; Städel Museum, Frankfurt, and the LehmbruckMuseum, Duisburg.
Michael Werner Gallery's exhibition Wilhelm Lehmbruck features a large selection of sculptures by the artist as well as related etchings and works on paper. The graphic works are remarkable for their physicality and, like his sculptures, they exploit the emotive qualities of their material to reach beyond mere depiction toward something deeper. Wilhelm Lehmbruck is on view at Michael Werner Gallery in London from 21 March through 25 May and is accompanied by a full-color catalogue with a text by Jean-Paul Stonard. Gallery hours are Tuesday through Saturday, 10AM to 6PM. For more information, please email press@michaelwerner.com.