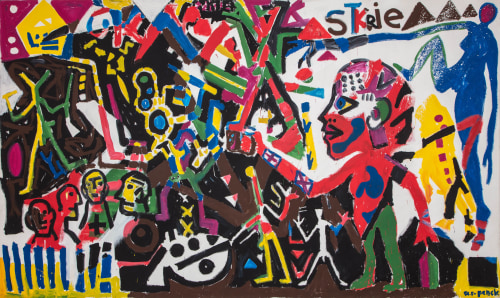 Michael Werner Gallery, London is pleased to present A.R. Penck - Systems: Felt Works and Paintings. Throughout his career, Penck depicted the human struggle stemming from man-made political, scientific, and societal systems. On view are paintings, works on paper, and a unique group of felt sculptures on display for the first time in the UK.
One of the greatest artists to come from post-war Germany, A.R. Penck (b. 1939, d. 2017) is the pseudonym of Ralf Winkler. Born in Dresden, he witnessed the firebombing of his city as a child and the experience impacted the course and development of his life. At the start of his career, Penck lived in the authoritarian environment of the GDR and his access to materials was limited. During this time, the artist created a simplified pictorial vocabulary derived from language, mathematics, cybernetics, information systems and behavioural theories. Using his own personal lexicon of signs and symbols, the artist challenged the relationship between man and society. While Penck's work was borne from post-World War II ideologies and the repressive political state of East Germany, the visual language he invented is universal, timeless, and contemporary.
Along with major paintings and works on paper made throughout the artist's over 50-year career, the exhibition includes a rare group of sculptures in felt. Penck's characteristic symbols and forms as made in his paintings are translated into sculptural forms in primary colours.
Another highlight is the monumental painting tskrie VIII from 1984. The title tskrie is an anagram for the word "strike" and is made the same year as the miners' strikes in Northern England while Penck was living in London.
While in the GDR, A.R. Penck received the help of Georg Baselitz, Jörg Immendorff, and Michael Werner, who smuggled his work westward where they caused a sensation. A.R. Penck's first solo museum exhibition occurred in 1971 at Museum Haus Lange, Krefeld. The following year he participated in Documenta 5 (he contributed major works to three subsequent presentations of Documenta). He was awarded the prestigious Will Grohmann Prize of the Academy of Arts in West Berlin in 1975. Continually surveilled and harassed by the East German authorities, A.R. Penck eventually emigrated to the West in 1980. He participated in the groundbreaking exhibitions Zeitgeist (Martin-Gropius-Bau, Berlin, 1982) and New Art (Tate, London, 1983). Overall, his career spanned more than five decades. Numerous solo exhibitions worldwide include Museum Ludwig, Cologne; Tate Gallery, London; Kunsthaus, Zürich; Schirn Kunsthalle, Frankfurt; Musée d'Art Moderne de la Ville de Paris; and Kunstmuseum den Haag. A.R. Penck died in Zürich in 2017.
A.R. Penck - Systems: Felt Works and Paintings opens on 19 November 2021 with a private view on 18 November from 6-8PM and will remain on view through 19 February 2022. The exhibition will be accompanied by a full-colour catalogue featuring a text by art historian Lena Fritsch. Gallery hours are Tuesday through Saturday, 10AM to 6PM.