A.R. PENCK: NEW PAINTINGS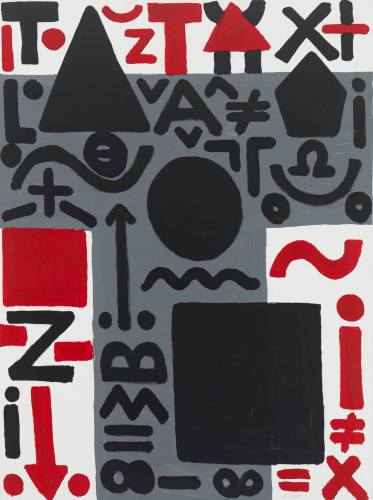 Michael Werner Gallery is pleased to announce an exhibition of new paintings by A.R. Penck. This is the gallery's first exhibition of works by the artist since his "New System Paintings" were shown here in 2009.
After more than fifty years of creative work as a painter, sculptor, writer and musician, A.R. Penck remains a vital and relevant artistic force. His first mature works, which emerged in the early 1960s, employed a range of standardized, brusquely painted signs and symbols. This evolving language of abstract forms and quasi-representational pictographs served the artist's investigation of political situations and systems of communication in politically repressed East Germany. His expressive, often primitive approach to painting masks his intellectual sophistication and the conceptual depth of his ideas. Derived from mathematical and behavioral theories and cybernetics, the artist's paintings at times seemed to develop more from science fiction than hard science; yet today these concepts are basic principles at work in our everyday lives. The prescience of A.R. Penck's vision should not be underestimated. Expanding upon his rich pictorial vocabulary, A.R. Penck questions the socio-political systems of our time and critically examines their consequences for individual experience, revealing new expressive possibilities with wit and painterly inventiveness.
A.R. Penck was born Ralf Winkler in Dresden in 1939. He showed great proficiency in painting as a child and beginning at the age of 16 made repeated applications to the academies in Dresden and East Berlin. His paintings' nascent political overtones and the determinedly un-academic directness of his style brought constant rejection by the establishment. In 1969 he adopted the pseudonym A.R. Penck, primarily to counter to his persistent difficulties with East German authorities, which had made it all but impossible for him to exhibit his works publicly. By smuggling his paintings westward Penck eventually managed to exhibit extensively in Cologne and West Berlin. The artist's first solo museum exhibition was presented in 1971 at Museum Haus Lange, Krefeld; the following year Penck participated in documenta 5. His work was met with international acclaim following his participation in the famous exhibitions Zeitgeist, Martin Gropius Bau, Berlin, 1982; and New Art, Tate, London, 1983. Today A.R. Penck is represented in public and private collections throughout the United States and Europe. Last year Museum Ludwig Cologne presented an overview of the artist's felt sculptures and related drawings. A major retrospective of paintings, sculptures and artist's books was presented by Schirn Kunsthalle Frankfurt in 2008; the exhibition later traveled to Kunsthalle Kiel and Musée d'Art Moderne de la Ville de Paris. A group of important early Standart paintings and sculptures was included in the 2009 exhibition Art of Two Germanys/Cold War Cultures, organized by the Los Angeles County Museum of Art and later presented at the Germanisches Nationalmuseum Nürnberg and the Deutsches Historisches Museum in Berlin. A.R. Penck lives and works in Dublin.
A.R. Penck: New Paintings is on view from 10 January through 9 March 2013. A full-color catalogue with a text by the artist accompanies this exhibition. Gallery hours are Monday through Saturday from 10AM to 6PM. For more information please contact press@michaelwerner.com.