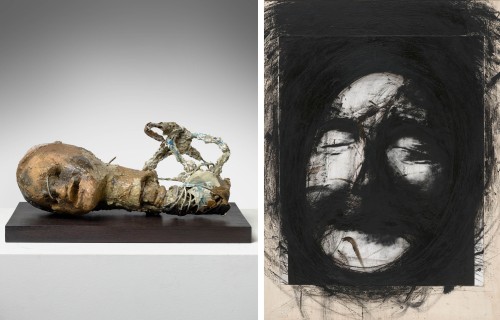 Michael Werner Gallery, New York is pleased to present Antonius Höckelmann / Arnulf Rainer, an exhibition of over 70 works by German artist Antonius Höckelmann (1937-2000) and Austrian artist Arnulf Rainer (b. 1929). Featuring a wide array of media, including paintings, sculpture, drawings, photography, and prints, the exhibition provides a unique opportunity to see the works of Höckelmann and Rainer side by side. Working simultaneously from different countries, both artists explored themes of creation and destruction in post-war Europe.
Born in Oelde, Germany in 1937, Antonius Höckelmann trained as a wood sculptor in his hometown in the 1950s before studying at the Academy of Fine Arts in Berlin. Höckelmann said, "For me, sculpture is at the root of everything", which is contradictory to the fact that he completed no more than a dozen sculptures in his lifetime, destroying many. Concerned with the way 3-dimensional works interacted with space, Höckelmann ultimately found sculpture to exist in "an artificial world that relies only upon itself."
Drawing also naturally exists in a realm of its own and became an integral part of Höckelmann's exploration of form. Art historian Julia Garimorth writes of this development: "Though physical contact with material is an imperative for all sculptors, Höckelmann realized that the simple evocation of this material often proved to be more 'effective' than working the material itself. He thus experimented with drawing to replace touch by the evocation of touch."
Born in Baden, Austria in 1929, Arnulf Rainer began his first experiments in overpainting at the same time Höckelmann created his first sculptures. Rainer initially started overpainting out of financial necessity but soon found it to be an important catalyst in his creative process. Works were created over a long period of time and in dialogue with the underlying source material that was often completely obliterated. Rainer never saw his work as complete. A pioneer of the Art Informel movement, Rainer describes the movement, "a state in which all was possible and nothing yet pronounced...a pure state of possibility."
It was possibility that excited him as an artist and the resulting impossibility that tormented him. Plagued by doubt, Rainer turned towards rudimentary forms of communication and expression and, like Höckelmann, a tactual method, wherein he used his own body to paint on canvas.
Höckelmann had his first solo exhibition with Michael Werner Gallery in 1966. Afterwards, he exhibited in prominent museums including Kunsthalle Bern (1975), Kunsthalle Köln (1980), the Kunstverein für die Rheinlande und Westfalen in Düsseldorf (1985), and the Hamburger Kunstverein (1986) as well as documenta 6 (1977) and documenta 7 (1982). An exhibition of his work titled "Antonius Höckelmann: All in All" was recently exhibited at the Kunsthalle Bielefeld (2020) and Arp Museum Bahnhof Rolandseck (2020-2021).
Arnulf Rainer began exhibiting with the Michael Werner Gallery in the 1960s. He represented Austria at the Venice Biennale in 1978 and exhibited at documenta 5 (1972), documenta 6 (1977), and documenta 7 (1982). Major retrospectives of his work have been mounted at Centre Pompidou in Paris (1984), The Guggenheim in New York (1989), the Stedelijk in Amsterdam (2000), and Kunstforum Vienna (2000). He is the winner of the Austrian National Prize in Graphic Arts (1966) and Painting (1978). A museum dedicated to Rainer's work opened as part of the Ayn Foundation in New York from 1993 to 1995. Another museum of his work opened in his hometown of Baden, Austria in 2009. Recently, on the occasion of his 90th birthday, the Vienna Albertina hosted an exhibition titled Arnulf Rainer: A Tribute to honor the artist's career (2019-2020).
Antonius Höckelmann / Arnulf Rainer opens Wednesday 23 November 2022 at Michael Werner Gallery, New York and will remain on view through Saturday 11 February 2023.