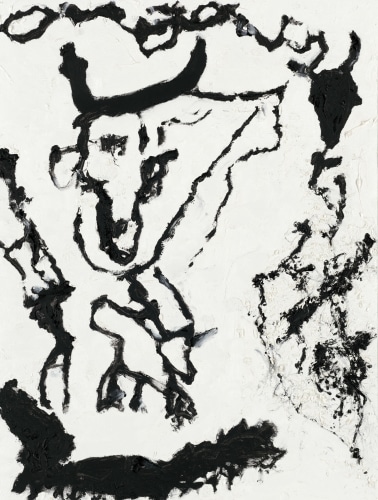 "There's so many things
to feel and see while you're awake
they're just out of reach
out of grasp
yeah out of reach
and just as many, maybe more
the minute that you sleep"
-Don Van Vliet
Michael Werner Gallery, East Hampton is pleased to present Don Van Vliet: Cold Furniture, an exhibition of paintings and works on paper by American musician, poet, and painter Don Van Vliet (1941-2010).
Famously known by his stage name Captain Beefheart, Van Vliet transformed rock and roll through his creation of unconventional, experimental, and avant-garde music. Having made visual artwork since he was a child, Van Vliet turned away from music and shifted his focus solely towards painting in the mid-1980s.
Art critic John Yau explains the way in which Van Vliet achieves mastery over sound, tone, word, and image through synchronous engagement with his senses: "Dream, sight, sound, smell, taste, and touch are inextricable aspects of his experience. For Van Vliet, one of the burdens his paintings must bear is his attempt to preserve the unity of his experience of a fleeting world in which the inner and outer zones mix together."
Born in Glendale, California in 1941, Don Van Vliet's work has been exhibited in galleries and museums worldwide, including the San Francisco Museum of Modern Art, Bielefelder Kunstverein, Brighton Museum and Art Gallery, Cleveland Center for Contemporary Art, PS.1 Contemporary Art Center, New York, and the Brant Foundation in Greenwich, Connecticut. Don Van Client died at home in northern California in 2010.
Don Van Vliet: Cold Furniture will open Wednesday 16 November.