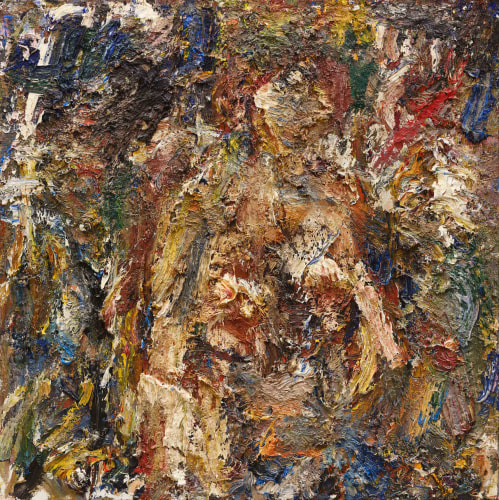 Michael Werner Gallery, New York is pleased to present an exhibition of paintings by French artist Eugène Leroy (1910-2000).
Living most of his life in Tourcoing, France, near the Belgian border, Leroy painted classical subjects such as still-lifes, self-portraits, and the human figure. He drew inspiration from the history of painting, particularly from the work of masters such as Giorgione, Rembrandt, and Hugo van der Goes. Laboring over his paintings for many years, Leroy built layers upon layers of paint until the subjects are obfuscated and only recognizable through painted glints of light.
On view in the exhibition are paintings of Leroy's muse and lover, Marina Bourdoncle, an artist Leroy met in 1986 and with whom he shared the remainder of his life until 2000. Painting from life was a necessity for Leroy. Never static, Bourdoncle posed for him reading Joyce, Rimbaud, and Proust, as well as playing the guitar or flute.
While the nude figure, particularly female and often Marina, was a recurring theme in Leroy's painting, the subject only served him as a vehicle to capture the movement of light. As the critic Barry Schwabsky has written, "his paintings show no concern with either the flesh or its form but only with what might be called a flash of illumination in which both flesh and form are at once dissolved and memorialized."
Works by Leroy are in major American and European collections and have been exhibited at the Musée d'Art moderne de la Ville de Paris; Stedlijk Van Abbemuseum, Eindhoven; Albright-Knox Art Gallery, Buffalo; and Musée d'Art moderne et d'Art contemporain, Nice. He took part in documenta IX in Kassel in 1992 and in the Venice Biennale in 1995. The Musée Beaux Arts Tourcoing was renamed MUba Eugène Leroy in honor of the painter in 2010.
Eugène Leroy: About Marina opens 11 November at Michael Werner Gallery in New York and remains on view through 22 January. A catalogue will accompany the exhibition. Social distancing is in effect and wearing a mask is mandatory. Gallery hours are Monday through Saturday, 10AM to 6PM.