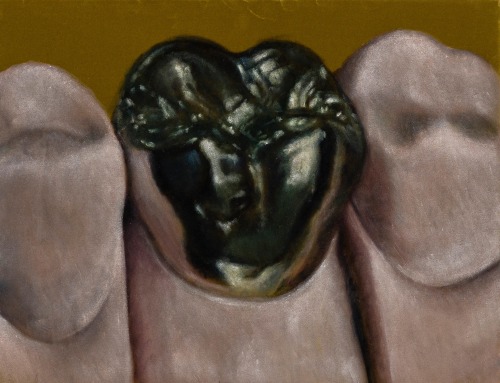 Michael Werner Gallery, New York is pleased to present Issy Wood: Time Sensitive, an exhibition of new paintings by American-born, British artist and musician Issy Wood (b. 1993).
Culling images from as diverse sources as estate catalogues, film stills, photographs of the artist's family possessions, and parts of her own body, Wood's work can be described as a hijacking of devotion. The chosen imagery is reproduced, layered, juxtaposed, reframed, and memorialized, hinting at the inner thoughts of the artist while leaving the viewer on shaky foundations. Curator and critic Margaret Kross elaborates: "Throughout her paintings … Wood resists the notion that the inner world has ever been, or could ever be, a self-sufficient or autonomous realm. Vulnerable and precarious, contingent on social forces and layers of history that at different moments appear to resurface — or that have never gone away — her imaginary is inseparable from the conditions of the world and of lived, material experiences."
Wood's paintings convey both intimacy and detachment, akin to staring at an image through a smartphone screen. As Wood has asked, "What does 'from life' even mean in this day and age?"
Solo exhibitions of Wood's work have been held worldwide at Carlos/Ishikawa in London, X Museum in Beijing, JTT in New York, Goldsmiths Centre for Contemporary Art in London, D.E.L.F. in Vienna, and Triumph in Moscow. Her work is included in numerous important collections such as Fondation Louis Vuitton, Paris; High Museum of Art, Atlanta; Institute of Contemporary Art, Miami; Rhode Island School of Design Museum, Providence; Sharjah Art foundation; Sifang Art Museum, Nanjing; Start Museum, Shanghai; Tate, London; X Museum, Beijing; and Zabludowicz Collection, London. Trained in the UK through a BA at Goldsmiths and an MA at Royal Academy School, Wood lives and works in London.
Issy Wood: Time Sensitive opens Friday 9 September at Michael Werner Gallery, New York and will remain on view through Saturday 19 November. A catalogue with texts by Margaret Kross and the artist accompanies the exhibition.