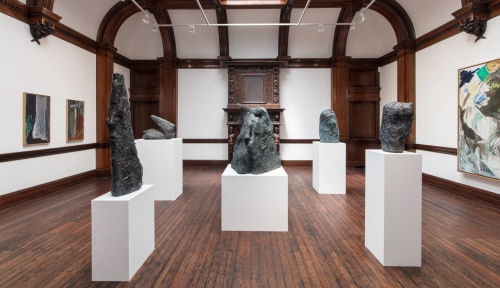 History
In 1963, Michael Werner opened his first gallery, Werner & Katz, in Berlin, Germany with the first solo exhibition of Georg Baselitz. Galerie Michael Werner was later established in Cologne in 1969. Since then, Galerie Michael Werner has worked with several of the most important artists of the twentieth century, including Marcel Broodthaers, James Lee Byars, Peter Doig, Jörg Immendorff, Per Kirkeby, Eugène Leroy, Markus Lüpertz, A.R. Penck, Sigmar Polke and Don Van Vliet.
In addition to contemporary American and European painting, sculpture and drawing, the gallery specializes in works by modern masters including Hans Arp, Piero Manzoni, Francis Picabia and Kurt Schwitters.
Michael Werner Gallery opened its doors in New York in 1990 with eventual partner Gordon VeneKlasen. The gallery currently occupies the historic East 77 Street townhouse where legendary dealer Leo Castelli once kept his gallery. Michael Werner Gallery presents modern and contemporary European and American art. Recent major exhibitions include Sigmar Polke: Lens Paintings, Wilhelm Lehmbruck: Sculptures and Etchings, and Major Works of Marcel Broodthaers, as well as the first New York solo exhibitions of Hurvin Anderson, Aaron Curry, and Enrico David.
In 2012, Michael Werner Gallery inaugurated a new location in London's Mayfair with an exhibition of new paintings by Peter Doig. Other major solo exhibitions in London include Jörg Immendorff: LIDL Works and Performances from the 60s, Peter Saul: Some Terrible Problems, and Puvis de Chavannes: Works on Paper and Paintings.